Highlights
Discover the magic of London as the city becomes illuminated in the evening. Hop on for a one-round panoramic tour past London's top landmarks at dusk!
Evening Tour
See London's best sights lit up at dusk.
Our panoramic London Evening Tour showcases the city's famous landmarks and monuments as they're illuminated in the evening. Need-to-know: Hop on at the London Eye (Stop 11) at 19:30. The full tour circuit is 2 hours. Please note that the Evening Tour is not a hop-on, hop-off tour. Your Evening Tour ticket must be redeemed within the period of validity of your ticket – it cannot be used after your ticket has expired.
See all the top Landmarks
Big Bus gives you the best view of all London's famous sights.
Our Big Bus tour of London has been carefully designed to show you all of the top London tourist attractions, including Buckingham Palace, Big Ben and the London Eye.
Pre-recorded Commentary
Available in 5 languages on all buses.
Tune in to our pre-recorded commentary during your tour. Our engaging virtual guides will entertain you with incredible facts and stories about London's history, landmarks, famous figures and more! Choose from 5 languages: English, French, German, Spanish and Italian.
Check Service
Plan ahead for your tour with our service updates
Visit our Service Information Page for up-to-date information about our current service.
Free Wi-Fi
Available on all buses.
With free Wi-Fi across our entire fleet of London buses, you can email, tweet and post whenever and wherever you're on-board.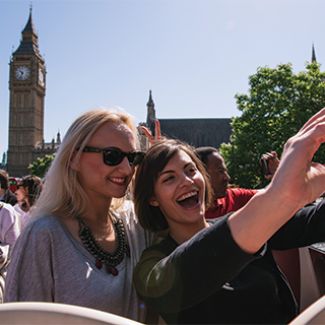 Includes
48h hop-on, hop-off ticket
3 Guided walking tours:

- Changing of the Guard
- City of London
- Jack the Ripper

London Evening Tour
River Cruise - one way
Fully Flexible
Top landmarks:
Big Ben & Houses of Parliament Buckingham Palace St Paul's Cathedral Tower of London
Ticket validity: 48 Hours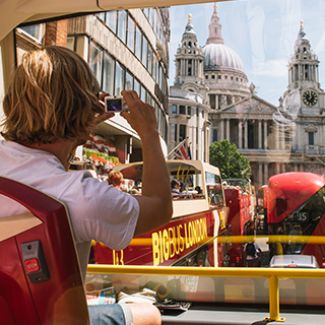 Includes
48h hop-on, hop-off ticket
3 Guided walking tours:

- Changing of the Guard
- City of London
- Jack the Ripper

River Cruise - one way
Fully Flexible
Top landmarks:
Buckingham Palace Piccadilly Circus St Paul's Cathedral Tower Bridge
Ticket validity: 48 Hours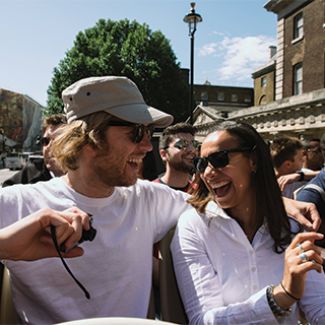 Includes
24h hop-on, hop-off ticket
River Cruise - one way
Top landmarks:
Big Ben & Houses of Parliament Tower Bridge Trafalgar Square
Ticket validity: 24 Hours