Select your hop-on, hop-off tour tickets
Book now, use any day within 6 months
Save by buying your tickets online: Adult price online: £26.10 , on-street £29.00 Child price online: £17.10 , on-street £19.00
Highlights
Discover the magic of London as the city becomes illuminated in the evening. Hop on for a one-round panoramic tour past London's top landmarks after dark!
Please note: the Night Tour is not a hop-on, hop-off tour. Please select your preferred tour date in advance via our booking portal (a link to this will be supplied in your booking confirmation email). Due to Covid-19 Government restrictions, we are presently only able to accept group bookings for a maximum of 6 guests .
See all the top Landmarks
Big Bus gives you the best view of all London's famous sights.
Our Big Bus tour of London has been carefully designed to show you all of the top London tourist attractions, including Buckingham Palace, Big Ben and the London Eye.
Extra Hygiene Measures
The health and safety of our staff and customers is our number one priority, so we've introduced a number of enhanced health and safety measures. We are continuously following government advice and the requirements of local health authorities to reduce the risk of COVID-19 transmission.
Pre-recorded Commentary
Available in English on all buses.
Tune in to our pre-recorded commentary during your tour. Our engaging virtual guides will entertain you with incredible facts and stories about London's history, landmarks, famous figures and more!
Timed & Dated Tours
Before you can board the bus, you will need to pre-book a time and date for your tour.
You can do this through our online booking portal (which will be provided in your confirmation email), or with our staff at the departure locations. Please see our Service Information for further details on tour times and departure locations.
Free Mobile App
Now with live bus arrival times!
Download our free mobile app for the perfect pocket companion to your sightseeing adventure. Our live bus arrival times feature lets you spend a little longer sipping that latte, browsing at the museum or taking that all-important selfie, so you can simply arrive 5 minutes early at the bus stop. In addition to live bus arrival times, you'll also get detailed maps and route information, live bus tracking, walking directions, facts about famous landmarks and attractions, ticket offers and more. Save memory-making minutes on your city adventure with Big Bus Tours.
Check Service
Plan ahead for your tour with our service updates
Visit our Service Information Page for up-to-date information about our current service.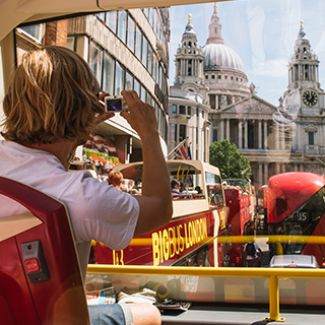 Includes
2-Day hop-on, hop-off ticket
Open-top, double-decker buses
See all the top landmarks
Limited Offer: Free Night Tour
Extra hygiene measures
Pre-recorded commentary
Top landmarks:
Buckingham Palace Piccadilly Circus St Paul's Cathedral Tower Bridge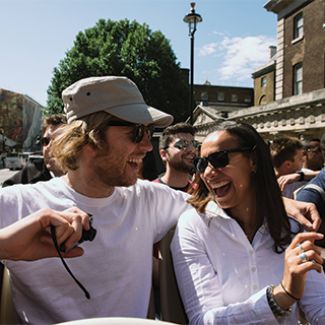 Includes
1-Day hop-on, hop-off ticket
Open-top, double-decker buses
See all the top landmarks
Extra hygiene measures
Pre-recorded commentary
Top landmarks:
Buckingham Palace Piccadilly Circus St Paul's Cathedral Tower of London