If you're looking to get your teeth stuck into something a bit different, you'll not be short of quirky food in London. From the latest trend in sweet treats, to exotic meat delicacies for only the brave, how many will you try?
A - Alpaca
The perfect place to explore the exotic, Archipelago Restaurant offers a wealth of unfamiliar delicacies for fearless diners including a jerked alpaca dish, aptly named "Peruvian Jumper", served with a cornmeal slice, buttermilk jelly and twice-fried plantain slices called patecones.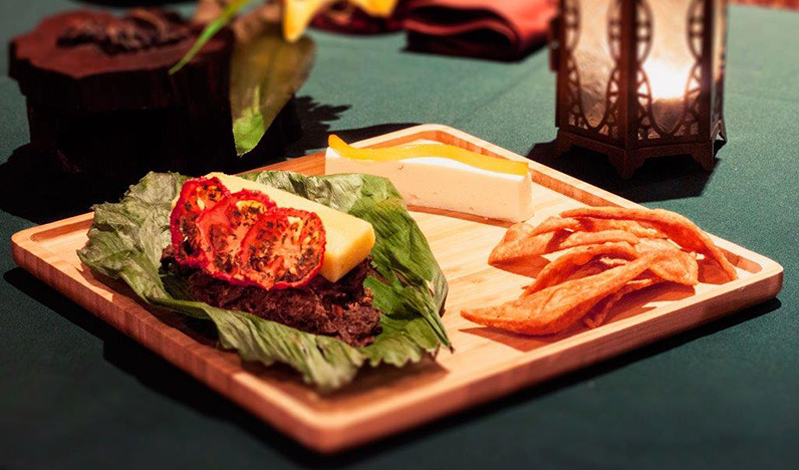 Where: Archipelago, 53 Cleveland Street, London W1T 4JJ

Find the nearest Big Bus Stop to Archipelago
B - Bubblewrap Waffle
A delectable cone of bubblewrap-shaped Belgian waffle, crammed full of gelato or cream, sprinkled liberally with whatever toppings you want and drizzled with anything from Nutella to salted caramel. Bubblewrap waffles may be one of London's most photogenic foods, so don't miss them.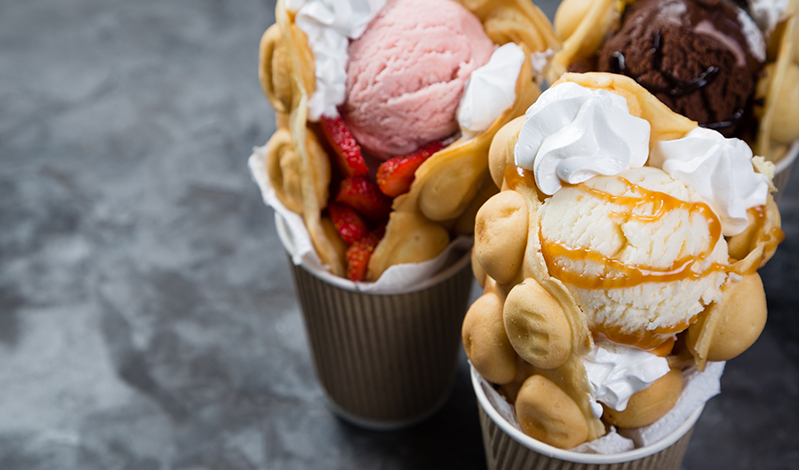 Where: Bubblewrap, 24 Wardour Street, Chinatown London, W1D 6QJ

Find the nearest Big Bus Stop to Bubblewrap Waffle
C - The Cronut
The creators of the world-famous Cronut, Dominique Ansel Bakery in Belgravia, should be top of the list for pastry lovers visiting the capital. The perfect blend between doughnut and croissant, the bakery create a signature flavour of Cronut every month, so there's always something new to try. Don't miss out; pre-order online and get your hands on them before they're gone!
Where: Dominique Ansel Bakery, 17-21 Elizabeth Street, Belgravia, London, SW1W 9RP

Find the nearest Big Bus Stop to Dominique Ansel Bakery
D - Duck & Waffle
The ideal dining experience for night owls with a head for heights, Duck and Waffle is not only open 24/7, but is also perched on the 40th floor of Heron Tower, offering stunning views of the London skyline. Serving British cuisine with European influences, Duck and Waffle's namesake dish is a must for those visiting the capital.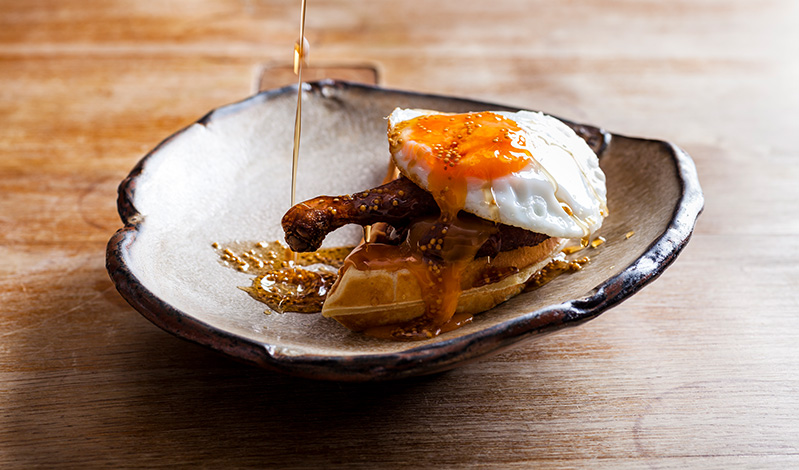 Where: Duck & Waffle, Heron Tower, 110 Bishopsgate, London EC2N 4AY

Find the nearest Big Bus Stop to the Duck & Waffle
E - Egg Hopper
If you fancy meeting the crêpe's exotic Sri Lankan cousin, look no further than Hoppers London, situated in the heart of Soho. The restaurant are experts in making egg hoppers: fermented coconut milk and rice flour pancakes cooked in unique bowl shapes, served with spicy and aromatic curries with a soft egg baked in the base.
Where: Hoppers London, 49 Frith Street, London, W1D 4SG

Find the nearest Big Bus Stop to Hoppers London
F - Fruit with a twist
Never one to shy away from mind-bending dishes that are just as creative as they are delectable, Heston Blumenthal's London restaurant, Dinner, is a luxury destination that doesn't disappoint. His "Meat Fruit" is one such dish; what appears to be a mandarin turns out to be a sphere of smooth chicken liver and foie gras parfait enveloped in mandarin jelly, complete with stalk and leaf. Booking in advance is recommended.
Where: Dinner by Heston Blumenthal, Mandarin Oriental Hyde Park, London, 66 Knightsbridge, London SW1X 7LA

Find the nearest Big Bus Stop to Dinner by Heston Blumenthal
G - Galician Beef
Meaning "land", Lurra is a Basque Grill with an emphasis on authentic, expertly sourced produce. Packed full of fresh flavours from the heart of the Basque country, the menu has something for everyone, including Lurra's signature dish: 14-year aged Galician Blond steak. Weighing in at 800g, this is the perfect meal for two hungry meat lovers.
Where: Lurra, 9 Seymour Place, London W1H 5BA

Find the nearest Big Bus Stop to Lurra Restaurant
H - Haggis Mac n Cheese
Offering a taste of the Scottish highlands in the UK's capital, Mac & Wild serve up everything from the Veni-Moo burger (voted London's Best Burger in 2016) to a Buckie Royale cocktail made from prosecco and Buckfast (a super-caffeinated tonic wine produced in an abbey), ideal for a boozy brunch. Complement your meal with a side of haggis mac 'n' cheese, complete with truffle, for a true flavour of Scotland.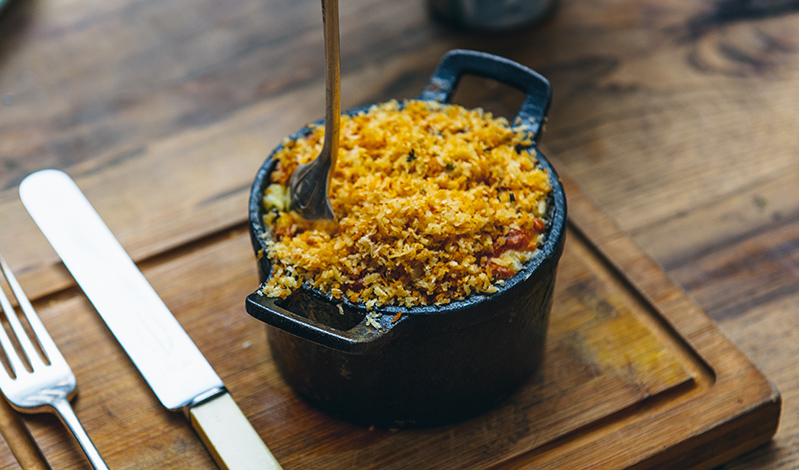 Where: Mac & Wild, 65 Great Titchfield St, Fitzrovia, London W1W 7PS

Find the nearest Big Bus Stop to Mac & Wild Fitzrovia
I - Ice Cream gyoza style
If you're on the hunt for a sweet treat that's a little out of the ordinary, then look no further than Gyoza Bar's delicious crispy fried ice cream with maple syrup. Crunchy on the outside and doughy on the inside, this decadent dessert is the perfect pre-theatre treat following a platter of crispy gyoza and pillowy soft bao buns.
Where: Gyoza Bar, 63-66 St Martins Lane, London, WC2N 4JS

Find the nearest Big Bus Stop to Gyoza Bar
J - Jellied Eels
Step into Victorian times to sample London's original fast food at M. Manze's: jellied eels. Traditionally eaten with 'vinney' (a chilli vinegar), Manze's jellied eels are served alongside classic pies with mash, and world-famous liquor, made from a secret recipe in an authentic Victorian storefront.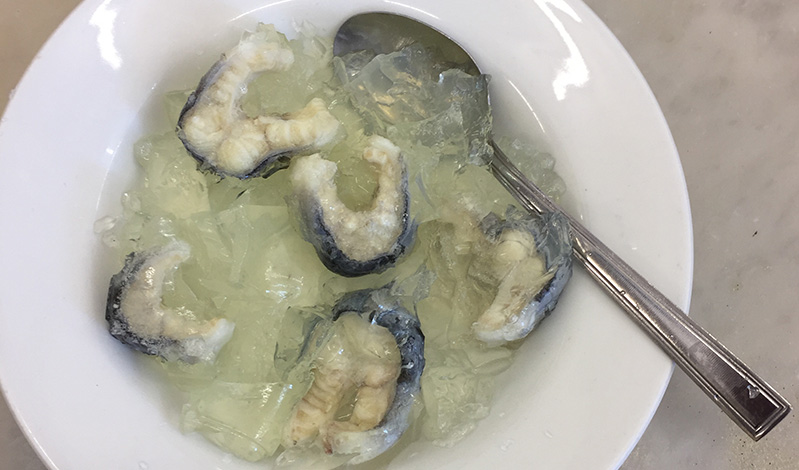 Where: M.Manze, 87 Tower Bridge Road SE1 4TW

Find the nearest Big Bus Stop to M.Manze
K - Kinako French Toast
Hailed as London's best dessert, the Kinako french toast with matcha ice cream at Bone Daddies' Japanese comfort food restaurant, Shackfuyu, is a must for sightseers with a sweet tooth. Its crispy caramelised edges and soft, custardy centre perfectly complement the melting matcha ice cream, making this the ideal pudding for fusion food fans.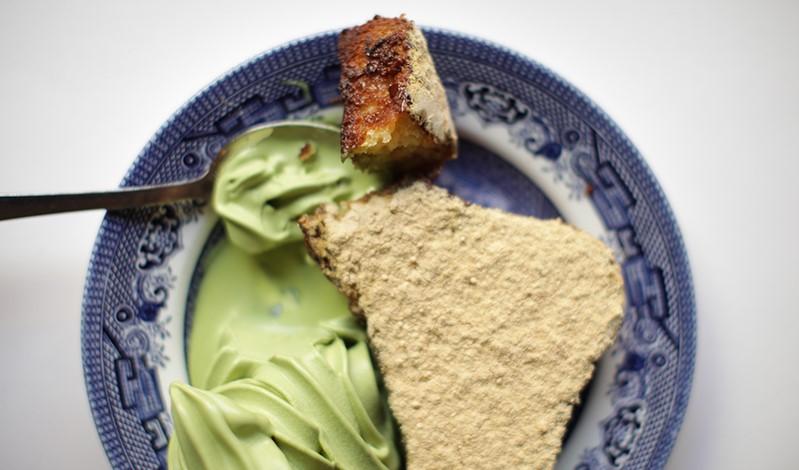 Where: Shackfuyu Bone Daddies, 14a Old Compton Street, London, United Kingdom W1D 4TJ

Find the nearest Big Bus Stop to Shack-Fuyu Soho
L - Lamb Brain
Grab a seat at Barrafina's sparkling marble bar in Covent Garden and get ready to taste a variety of exotic tapas dishes that you've watched the chefs prepare right in front of you. From delicate milk-fed lamb brain, deep fried and served on a bed of spicy tomato sauce with black olive and basil, to stuffed courgette flowers and suckling pig's ears, there's no shortage on choice.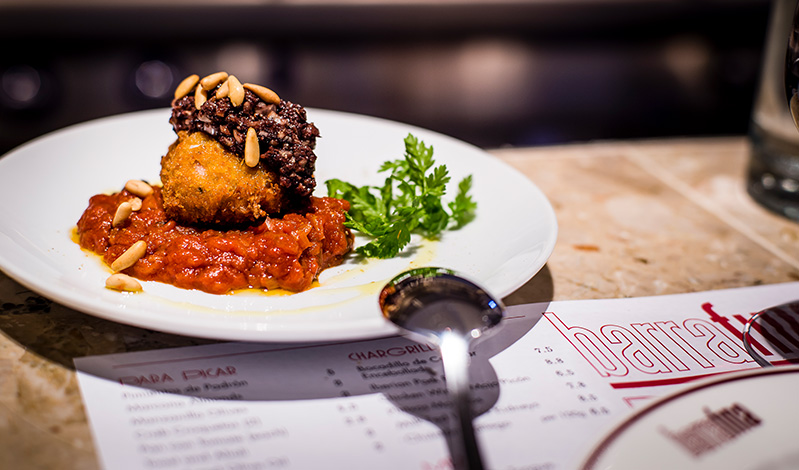 Where: Barrafina, Multiple locations

M - Medieval Banquet
Dive into the Middle Ages with a truly immersive experience at London's Medieval Banquet! With ale and red wine in abundance, sit back and enjoy hours of entertainment, including knights and live Medieval music, while you tuck into a four-course meal straight out of the history books.
Where: The Medieval Banquet London, Ivory House, St Katharine Docks, London E1W 1BP

Find the nearest Big Bus Stop to The Medieval Banquet London
N - Naga Viper Chilli Challenge
Home to one of London's most infamous hot wing challenges, Red Dog Saloon know how to turn up the heat. Measuring an eye-watering 1.3 million Scoville units (over 500 times the strength of Tabasco sauce), you must eat six hot wings smothered in a Naga Viper chilli sauce and then wait an agonising five minutes before you can quench your thirst. Are you brave enough?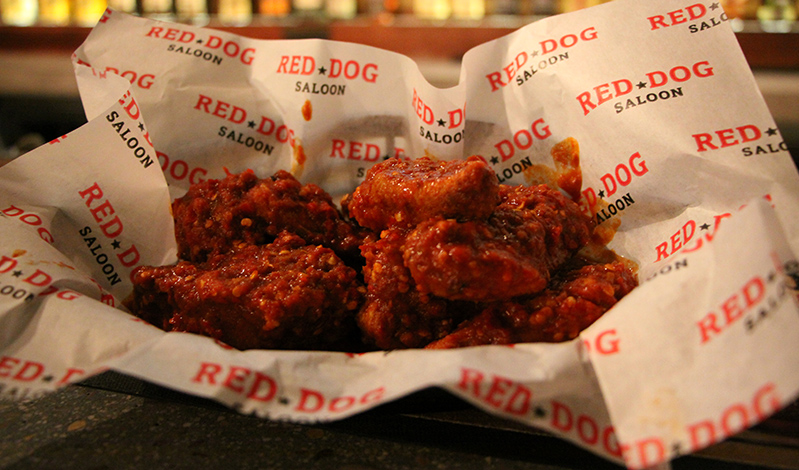 Where: Red Dog Saloon, 37 Hoxton Square, London N1 6NN, 0203 551 8014

Find the nearest Big Bus Stop to the Red Dog Saloon London
O - Oysters
If you're a shellfish fan then don't miss out on a visit to J.Sheekey Atlantic Bar, an iconic London seafood restaurant in the West End which has been serving the finest fish, oysters and other 'fruits de la mer' for over 100 years. Enjoy six Jersey Pearl Oysters and a glass of Champagne for £19.75 – the perfect pre or post-theatre treat. 
Where: J.Sheekey, 33-35 St Martin's Court, London, WC2N 4AL

Find the nearest Big Bus Stop to "J.Sheekey Oyster Bar London
P - Posh Madame
The Experimental Group's first London wine bar, Compagnie des Vins Surnaturels - Seven Dials, has a wine list to make any wine lover's heart flutter, and the food doesn't disappoint either. Their signature Posh Madame, a croque madame with the addition of truffled ham and quail egg, is a favourite with regulars and an opulent hangover cure.
Where: Compagnie des Vins Surnaturels, 8-10 Neal's Yard London WC2H 9DP

Q - Queso Fresco, Queso Oaxaca, Queso Chihuahua
Gringa Dairy is truly unique: authentic Mexican cheese, made by an American ex-banker in the centre of London. Their award-winning signature cheeses - queso fresco, queso chihuahua and queso oaxaca - are available to buy from The General Store in Peckham and R. Garcia & Sons on Portobello Road. You can also arrange tastings at the dairy itself.
Where: Gringa Dairy, Arch 77, 878 Old Kent Road, London, SE 15 1NQ

Find the nearest Big Bus Stop to Ginga Dairy London
R - Roasted Bone Marrow
A St. John classic that's been on the menu since the restaurant's opening in 1994, their world-famous roasted bone marrow and toast is a must for any foodie visiting London. Served simply with a parsley, shallot and caper salad and grey sea salt from Brittany, this is a dish that has wowed diners for decades.
Where: St. John, 26 St. John Street, London, EC1M 4AY


Find the nearest Big Bus Stop to St. John Restaurant
S - Seitan 'chicken'
The 100% vegan "chick'n" shop that's got the whole internet talking, the Temple of Seitan in Hackney should be top of the list for any adventurous foodies visiting the UK's capital. Probably the closest thing to real fried chicken you can find in the vegan world, the Temple of Seitan are also renowned for their vegan macaroni cheese and coleslaw.
Where: Temple of Seitan,10 Morning Lane, London, E9 6NA

Find the nearest Big Bus Stop to Temple of Seitan
T - Testicles
Known for their authentic Turkish meats, Testi is any adventurous meat lover's paradise. You can enjoy huge portions of classic cuisine like shish kebab alongside exotic dishes such as grilled lamb testicles which, ironically, have nothing to do with the restaurant's name. Testi is, in fact, the Turkish word for water jug.
Where: Testi, 36 Stoke Newington High St, London, N16 7PL

Find the nearest Big Bus Stop to Testi London
U - Urchin
Discover a true taste of Italy at Bella Cosa restaurant in the Isle of Dogs for authentic cuisine that tastes as good as it looks. With an emphasis on presentation as well as flavours that pack a punch, enjoy dishes like the house-made pasta with delicate sea urchin and Rapini pesto that lends the dish a vibrant green colour.
Where: Bella Cosa, Drewry House, 213 Marsh Wall, London, E14 9FJ

V - Venison Puffs
When a Chinese dim sum restaurant has a Michelin star, you know you're in for a treat. Yauatcha in Soho blend traditional dim sum with a modern tea house and European patisserie, making for a unique dining experience. Their signature venison puffs, sprinkled with sesame seeds, are not to be missed.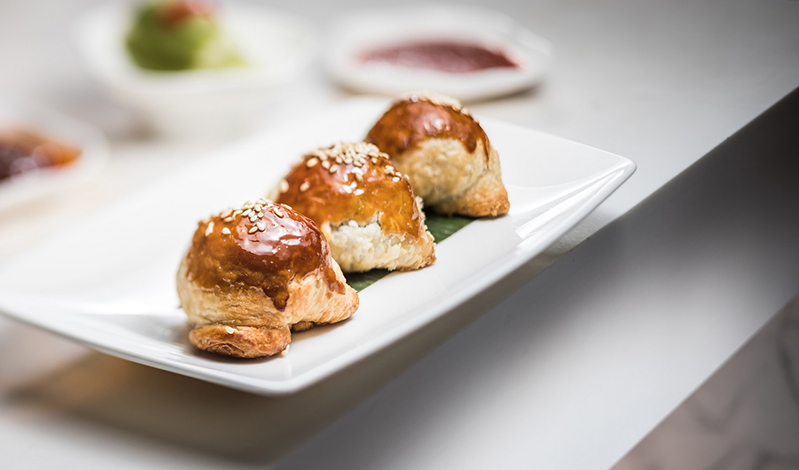 Where: Yauatcha, 15-17 Broadwick Street, London, W1F 0DL

Find the nearest Big Bus Stop to Yauatcha
W - Whelks
A London seafood landmark with a lively atmosphere, Randall & Aubin is the perfect place to sample everything from oysters and langoustines, to cockles and a true British classic, whelks. Whether you opt for a seafood platter or a more modest assiette, you'll enjoy a real taste of the sea.
Where: Randall & Aubin, 16 Brewer Street, London, W1 0SG

Find the nearest Big Bus Stop to Randall & Aubin
X - Xiao Long Bao
Embark on a journey across China and discover a true taste of Taiwan with A. Wong's authentic xiao long bao in Victoria. Modelled on Din Tai Fung's legendary recipe, these steamed, pleated pork soup dumplings are a work of art, uniting the classic flavours of ginger and vinegar. Not to be missed!
Where: A Wong, 70 Wilton Road, London, SW1V 1DE

Y - Yaki Wagyu
For a taste of oriental luxury, head to Aqua Kyoto. Known for one of the best brunches in the capital, this Japanese restaurant also has a star-studded menu for all times of the day. Their Wagyu beef, a 120g Kobe beef sirloin, with ume shu onions, smoked beef teriyaki and foie gras tofu, is truly something special.
Where: Aqua Kyoto, 5th Floor, 240 Regent Street (Entrance 30 Argyll Street), London, UK W1B 3BR

Find the nearest Big Bus Stop to Yaki Wagyu
Z - Zebra fillet
London's largest South African restaurant, Shaka Zulu, is the perfect place to indulge your wild side. Serving up a whole host of African game cooked on the braai, including crocodile, ostrich, springbok and a 220g zebra fillet, dinner at Shaka Zulu is any exotic meat lover's dream.
View this post on Instagram
Where: Shaka Zulu, Stables Market, Chalk Farm Road, NW1 8AB

Create your own culinary adventure with our handy map.