Our Tours
Big Bus Paris Sightseeing Tours
Discover the city of light with Big Bus Tours. Our flexible tours allow you to immerse yourself in the culture and beauty of Paris with ease. Hop on any of our open-top double-decker buses from 11+ Big Bus stops, conveniently located close to iconic landmarks and attractions. You can hop off the bus to explore as often as you like, rejoining the tour at your leisure.
Buses are scheduled to arrive at each stop every 5-15 minutes, meaning you won't be left waiting long when you decide to rejoin the tour. Our two carefully designed bus routes ensure that you'll capture all the must-see sights of Paris, including Notre Dame, the Louvre and, of course, the Eiffel Tower. We offer a variety of Big Bus tickets for either 1 or 2-day sightseeing, and you can also secure fantastic package tickets that include admission to a river cruise along the Seine, or to our very own Big Bus Paris Night Tour.
Leer más
---
About our Vienna Sightseeing Tours
Vienna Landmarks
Wedding cake palaces, immaculate parks and a fascinating musical heritage, this truly is a unique city. One of the best ways to see the landmarks in Vienna is to take a Big Bus Tour, hopping off to explore the city when you wish.

SPECIAL PROMOTION
FREE Night Tour with our 48 hour Tour tickets
Discover London with Big Bus Tours
BOOK TICKETS NOW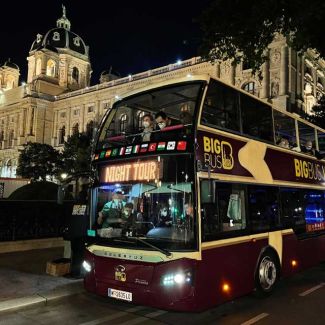 El Tour incluye
Tour nocturno de 1 hora
Live guide (English language)
Atracciones:
Palacio Imperial Hofburg Barrio de los Museos Ópera Estatal
Sus billetes para Tour Nocturno
Precio por Adulto
€ 29,00
Precio por Familia
€ 94,00
Quick & Simple Booking
Book a ticket online and save 10% over on-street prices
Book now