Highlights
Discover Hong Kong Island on our open-top panoramic bus tour, then board the historic peak tram to explore the sights from Victoria Peak.
Hong Kong Island Tour (Red Route)
See a variety of traditional temples, historic colonial sites and contemporary modern architecture on our Hong Kong Island Tour (Red Route). Please see our Service Information page for further details on tour times and departure locations.
Peak Tram Sky Pass
Enjoy a return journey up Victoria Peak on the historic Peak Tram.
The Peak Tramway is a funicular railway that carries tourists and residents to the upper levels of Hong Kong Island. The Tramway runs from the Central district of Hong Kong Island to Victoria Peak, via the Mid-Levels. Arriving at the top, you'll discover magnificent panoramic views from the Sky Terrace 428, the highest 360° viewing platform in Hong Kong. You can also enjoy a variety of mountain-top walks, shopping opportunities, cafes and restaurants. Please redeem your ticket voucher with a Big Bus Tours staff member at our information-center prior to boarding the Peak Tram.
Pre-recorded Commentary
Available in 10 languages on all buses.
Educational and informative pre-recorded commentary is available on all buses in Mandarin, English, Korean, Italian, German, French, Spanish, Russian, Cantonese and Japanese. Complimentary ear phones are provided.
Free Mobile App
Now with live bus arrival times!
Download our free mobile app for the perfect pocket companion to your sightseeing adventure. Our live bus arrival times feature lets you spend a little longer sipping that latte, browsing at the museum or taking that all-important selfie, so you can simply arrive 5 minutes early at the bus stop. In addition to live bus arrival times, you'll also get detailed maps and route information, live bus tracking, walking directions, facts about famous landmarks and attractions, ticket offers and more. Save memory-making minutes on your city adventure with Big Bus Tours.
Facemasks
Are compulsory on the bus.
In accordance with Hong Kong law, facemasks are required at all times, whether indoors or outdoors. We therefore ask all passengers to wear a facemask at all times: while boarding, during the tour, and while disembarking.
Check Service
Plan ahead for your tour with our service updates
Visit our Service Information Page for up-to-date information about our current service.
Flexible Ticket
If your circumstances change and you need to amend your ticket, we'll need to know at least 72 hours before your tour.
The quickest way to make changes to your booking is by downloading the Big Bus Tours app and chatting with our friendly Customer Service team.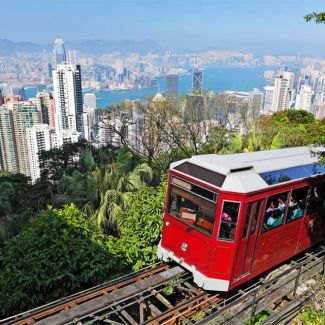 Includes
Stanley & Aberdeen Tour
Hong Kong Island Tour
Peak Tram Sky Pass
See all the top landmarks
Pre-recorded commentary
Flexible Ticket
Top landmarks:
Man Mo Temple Stanley Market Tsim Sha Tsui Promenade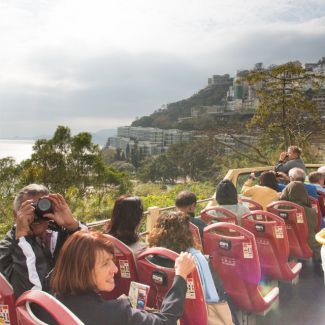 Includes
Stanley & Aberdeen Tour
Peak Tram Sky Pass
See all the top landmarks
Pre-recorded commentary
Flexible Ticket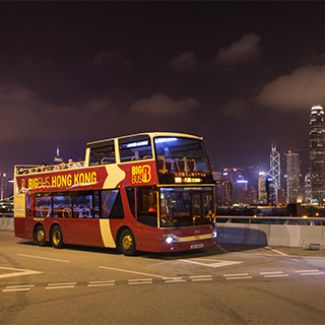 Includes
1-hour panoramic night tour
Night view of Kowloon Peninsula
Pre-recorded commentary
Flexible Ticket
Top landmarks:
Ladies Market Temple Street Night Market Tsim Sha Tsui Promenade
Ticket validity: Night Tour