Select your hop-on, hop-off tour tickets
Book now, use any day within 6 months
Save by buying your tickets online: Adult price online: US$40.00 Child price online: US$20.00
Highlights
Take our Classic 1-Day sightseeing tour and see all the Windy City's top landmarks.
Live Guides
Live English-speaking guides on all buses.
Our entertaining and experienced English-speaking guides offer an exciting and educational commentary throughout the duration of your tour.
Hop-on, Hop-off
Explore Chicago at your own pace with our flexible hop-on, hop-off tours.
Our hop-on, hop-off bus tours give you the freedom to plan your own itinerary and explore the best of Chicago's landmarks for as little or as long as you like. Hop off the tour as many times as you like within the validity period of your ticket and simply hop on again when you're ready.
See all the top Landmarks
Big Bus gives you the best view of all Chicago's famous sights.
Our Chicago routes have been carefully designed to show you The Windy City's best landmarks and attractions, including Magnificent Mile, Millennium Park, Willis Tower and John Hancock Tower.
1 Comprehensive Route
Offering you a full experience of Chicago's best sights.
There are 13 stops where you can hop-off the bus to visit attractions and explore places of interest. You can hop-on and hop-off the bus as many times as you like within the validity of your ticket and you may start and end your tour at any one of the Big Bus stops.
Frequent Service
Buses every 30-45 minutes.
Our Big Loop (Red Route) buses run by each stop every 30-45 minutes, with 14 different stops where you can hop on and off the bus. A complete circuit of our Big Red Route takes approximately 2 hours. The first bus departs Stop #1 at 9:00am and the last bus departs at 4.00pm.
Special Offers
Unlock discounts with your Big Bus ticket
You'll be able to enjoy some exclusive discounts and special offers at some of Chicago's leading eateries with your Big Bus Tours ticket. Simply see our brochure for vouchers when you take the tour, or speak to a Big Bus Tours staff member for all the latest offers.
Free onboard WiFi
Available on all buses.
Get connected as you tour around the city - free WiFi is available on all Big Bus Tours buses.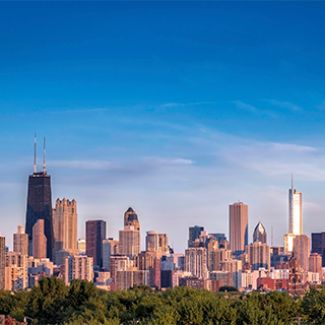 Top landmarks:
Adler Planetarium John Hancock Center Magnificent Mile Navy Pier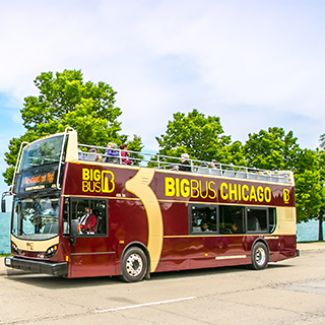 Top landmarks:
Adler Planetarium John Hancock Center Magnificent Mile Navy Pier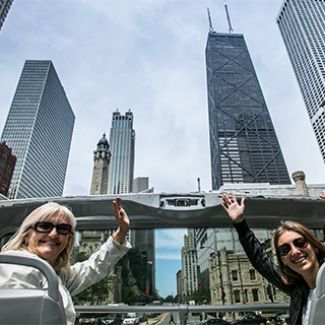 Includes
2 Day hop on, hop off
Chicago Architecture Center
Top landmarks:
Adler Planetarium John Hancock Center Magnificent Mile Navy Pier